25 Travel Gift Ideas for Little Globetrotters
As a family who loves to see the world I'm always on the lookout for travel themed gifts. Whether it's toys that are super portable or games and books that help teach our daughter about geography and cultures, if it promotes a love of travel then I'm all for it. Here is a list of 25 unique travel gifts for kids to help make your shopping a little easier.
This post contains affiliate and/or referral links. I may receive compensation for purchases made using these links to help support the running of Travel Fearlessly. These affiliate programs do not affect the price you pay for these products.
1. Magnetic Tins
Good For: Ages 2 to 5
Magnetic tins are a great travel toy because they're cheap, portable and easy to use. Kids as young as 2 will find these fun, provided they don't still like putting things in their mouths. And with so many styles to choose from you can buy 2 or 3 and change it up every trip.
2. Tea Collection Clothing
Good For: All ages
Tea Collection is a line of clothing that's PERFECT for little travelers. Their designs are based on cultures from around the globe and the clothes are made from top quality material. Two countries are represented each year, one for the spring/summer and one for fall/winter. The 2016 fall season was Japan and I scooped up some adorable dresses for Stink. The Spring/Summer 2019 collection is Southeast Asia!
3. Membership to a Local Attraction
Good For: All ages
We're a big membership family because it's such a huge money saver and it prevents anyone from saying "I'm bored". There is ALWAYS some place to go that we have a membership to. When you compare the price of a family membership for one year versus paying for individual visits you'll find that with most places you'll get your money's worth from roughly 3-4 visits. That means if you have any interest in visiting a zoo, museum, amusement park or aquarium more than once a quarter you should get that membership. This is a great alternative for getting yet another toy to take up space in the house.
4. Magnetic Tiles
Good For: Ages 3 to 7
Magnetic tiles from brands such as Magna Tiles and Picasso Tiles are another good traveling toy. They're small and battery-free, great for use on airplanes, car rides, hotel rooms or restaurants. Sets can have 30+ pieces but you only need to bring a handful and a small container to store them in. Legos are another good option for older kids.
5. Gift 'Ems Dolls
Good For: Ages 4 to 8
Gift 'Ems are a new toy that features little dolls from all over the world. Each doll comes in a gift box that reveals their name, city and country. You can even mix and match the hair, head, upper body and lower body for new combinations but the downside is that it creates a lot of pieces that can get lost.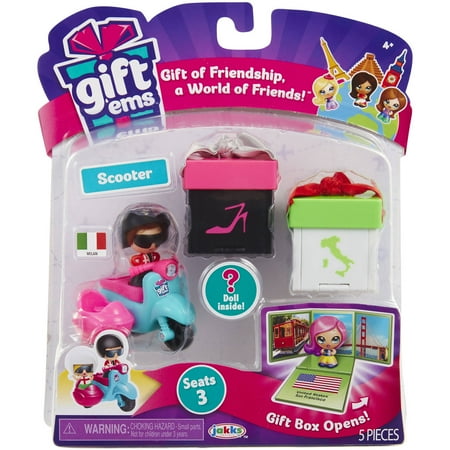 6. Little Passports Subscription Box
Good For: Ages 3 to 12
Little Passports is a monthly subscription box that comes with fun activities and products that will nurture your child's love of travel. There are three subscriptions to choose from, for different age groups: Early Explorers, World Edition and USA Edition. We recently signed up Stink for the Early Explorers and she's really enjoying it, particularly the large world map it comes with.
If you're thinking about getting Little Passports as a gift I recommend purchasing it 2 months before you plan to give it. The first month only includes the Little Passports suitcase, some stickers, a map and a passport booklet with a few activities. The ongoing monthly theme kits don't arrive until the second month. Another option is to purchase a Little Passports product to go with the first month's suitcase. This is what we did and we chose the Souvenir Picture Book. It has a few pages about each continent with an envelope that includes an activity from a select country: a puzzle of hieroglyphics from Egypt, a recipe card for corn tortillas from Mexico, a paper train ticket from Japan. Stink LOVES this book!
7. Computer Tablet
Good For: All ages
A good kid-friendly tablet can be an absolute lifesaver, especially on long journeys. We have a family tablet for playing games, watching movies and keeping everyone up to date on social media. But Stink's at that age where she could handle having her own kid-friendly tablet so we got her the Amazon Fire Kids Edition. There's a lot of factors that go into purchasing a tablet for a child: their age, your budget and your needs so I won't recommend any specific brands. The tops sellers, however are Apple iPad mini 2, Samsung Galaxy Tab S2 and Amazon Fire Kids Edition.
8. Mad Libs
Good For: Ages 6 to 12
I loved Mad Libs as a kid and they're still a great addition for family vacations. Mad Libs has two travel-themed booklets: Vacation Fun and On The Road. This is a wonderful activity for kids to play together and can keep them entertained for hours!
9. VTech Kidizoom DUO Camera
Good For: Ages 3 to 7
Back when we purchased a camera for Stink it was called the VTech Kidizoom Spin and Smile. That model has been discontinued and replaced with the VTech Kidizoom DUO. This kid's camera is awesome for a few reasons. 1) It has two viewfinders, similar to a pair of binoculars, which makes it easy for young children to take photos. Stink found this easier than using a single viewfinder, at least in the beginning. Now at age 4 she just uses the screen on the back. 2) The camera has TWO lenses, one on the front for taking regular photos and one on the back for taking selfies. 3) It takes 2MP photos which are fairly decent for a kid's camera. It's easy enough for a 3 year old to use the basic features and includes games and more complicated features for older children. For children ages 8 and up I would recommend getting a regular point-and-shoot camera.
Good to Know: If you purchase this camera I recommend also getting a micro SD card to go with it. The camera only has a 256MB storage space which kids will fill up fast and God forbid you delete their masterpieces!
10. K'NEX World Travels Building Set
Good For: Ages 7 to 12
K'NEX has a massive 403-piece set that allows children to build replicas of 13 landmarks and other items that represent each of the 7 continents. Building instructions include items like igloos, Mayan Pyramids, and the Eiffel Tower. One of the downsides is that this building set only comes in pink. Hopefully soon K'NEX will make it in a more gender neutral color but for now boys will just have to ignore the color as it's still fun to play with!
11. National Parks Passport
Good For: All ages
If U.S. travel is what your family enjoys most then consider getting your children a passport from the National Park Service. There is a kid's passport for younger ones or a regular passport for the teenagers. Each time you visit a national park you'll get a park cancellation stamp that records the name of the park and the date of your visit, just like a traditional passport. The kid's passport also has set of park-themed stickers and helpful information about the national parks.
12. Little Pim Foreign Language DVD's
Good For: Ages 2 to 6
Little Pim is an excellent way for young explorers to learn a foreign language. It shows videos of children doing activities like eating apples or drinking water. All the spoken words are in the foreign language of your choice with subtitles in English. Stink has the French set and I have to admit that even I learned a few phrases from watching the DVD's! If your children are too old for these DVD's but still want to learn a foreign language then I recommend the free Duolingo app (read my review about that here).
13. The Tiny Traveler Books
Good For: Ages 2 to 5
The Tiny Traveler is a new series of travel-themed books that are great for little ones. Learn about numbers while traveling through Italy or explore different colors around France, all without leaving your house!
14. Scratch Off Travel Map
Good For: All ages
I have to admit that this is a gift that's on my own gift list but it's also suitable for children. Scratch off travel maps are a great way to explore what countries and states you've been to and what countries you would like to visit next. There are plenty of options of both U.S. and world maps.
15. El Camino Bracelets
Good For: Ages 8 and up
It's so hard to find unique gifts for tweens and teens but look no further with El Camino bracelets. This small company based in the U.K. makes custom cord bracelets with charms called "steps". There are large steps to represent countries you've visited or small steps to represent cities. What's great about El Camino bracelets is that they're never finished! Each year you can give steps as a gift for all the places that your children have visited that year.
16. Crumpled City Junior Maps
Good For: Ages 5 to 9
Palomar has a useful set of street maps that are designed for kids, waterproof and practically indestructible! The Crumpled City Junior Maps include easy-to-see illustrations with bright colors that children will love. The only downside is that the Junior Map series has only a handful of cities available: London, Amsterdam, Berlin, Milan, New York and Paris. Hopefully in the future they will offer as wide a range as their regular maps.
17. Putumayo Kids World Music
Good For: Ages 1 to 5
There's no better way to introduce young children to other cultures than through music and Putumayo Kids does an excellent job at making CD's just for kids. You can choose between Playground Music (upbeat songs) or Dreamland Music (lullabies) from various countries and continents around the world.
Good to Know: Check your local library to see if they have these CD's to borrow before deciding whether to purchase your own!
18. Bananagrams
Good For: Ages 6 and up
If you like Scrabble or crossword puzzles then you'll love Bananagrams! It comes in a travel-friendly banana shaped pouch so it's easy to stash in an RV or suitcase and is a suitable game for anyone who can spell.
19. Headphones
Good For: All ages
Just as I mentioned with the computer tablet, these can be a lifesaver. A durable pair of headphones can keep everyone sane on a road trip, especially when Mommy and Daddy are getting a little tired of hearing the intro song to Calliou. Depending on your traveling needs and the ages of your children you may find that a folding pair of headphones is your best bet. For that I would recommend LilGadgets wired headphones, a good fit for kids ages 2-8. These headphones include an awesome shareport that allows two children to use individual headphones to share the audio.
20. Wall Map Decal
Good For: Ages 4 and up
Lovely Wall Company has some bright and colorful wall decals that can help children get a better understanding of geography. The USA decal includes the capitals of each state. You can even personalize the map with stickers showing where you've visited, lived and where you want to go next. There's also a world map to choose from.
21. Travel Journal
Good For: All ages
A travel journal is a great way for kids to record their experiences when exploring new destinations. Even if your children can't write yet they can draw pictures of things they saw on their vacation. We brought a travel journal for Stink on our trip to England and she drew pictures of the London Eye and our airplane.
22. Nanoblocks Sites to See
Good For: Ages 8 and up
Nanoblocks Sites are a series of famous landmarks that you can build with micro-sized building blocks. Nanoblocks are much smaller than Legos so be sure your child is old enough to master Lego building before starting on Nanoblocks. This series has some unique building sets such as the Neuschwanstein Castle and the Moai Statues on Easter Island. If you've got a teenager or you're just loyal to the Lego brand then you might want to explore the Lego Architecture series (for ages 12 and up).
23. Ride-On Suitcase
Good For: Ages 3 to 7
Airports can be a stressful place and kids can easily get bored while waiting to board a flight. With ride-on suitcases like Trunki you can relieve some of that boredom by letting your children take a ride on their luggage! The dimensions of a ride-on suitcase vary but most count as carry on luggage so it's a nice alternative for kids to sit on if you decide to check your stroller. It also makes the tedious task of packing for a vacation a lot more fun!
24. This is… Books
Good For: Ages 6 to 10
Miroslav Sasek wrote a series of 10 books highlighting cities and countries around the world such as Ireland, Rome, Edinburgh and Munich. In each book children will explore the history, geography and culture of the world through simple sentences and vintage illustrations.
25. Folding Scooter
Good For: Ages 5 and up
What do you do when your child has outgrown their stroller but doesn't have the energy to walk around big cities? Bring a compact scooter! Technology has improved so much that many scooters are compact enough to be stored in suitcases. Taking a scooter on vacation can significantly cut down on the amount of walking your kids have to do which means less meltdowns. Not to mention it's fun!